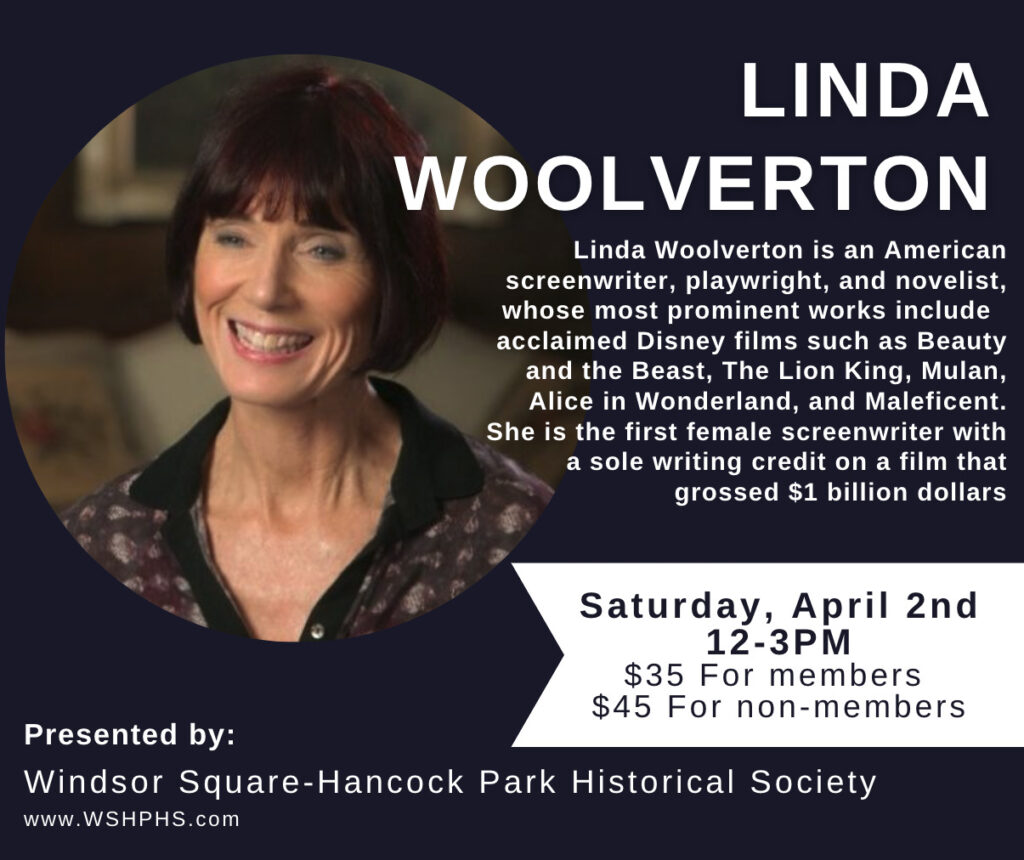 On April 2nd from 12:00 to 3:00 Ms. Woolverton is graciously opening her Windsor Square home for a one on one interview highlighting her fascinating career from budding young playwright to the first female screenwriter for The Walt Disney Company.
$35. For members $45. For non-members.
Linda Woolverton is an American screenwriter, playwright, and novelist, whose most prominent works include the screenplays and books of several acclaimed Disney films and stage musicals. She is the first woman to have written an animated feature for Beauty and the Beast (1991),[1] which is also the first animated film ever to be nominated for Best Picture at the Academy Awards. She also co-wrote the screenplay of The Lion King (1994), provided additional story material for Mulan (1998), and adapted her own Beauty and the Beast screenplay into the book of the Broadway adaptation of the film, for which she received a Tony Award nomination and won an Olivier Award.[2][3]
Her recent work includes the screenplays for Alice in Wonderland (2010) and Maleficent (2014), both of which were significant box office successes. The former made her the first female screenwriter with a sole writing credit on a film that grossed $1 billion dollars.[4] She subsequently wrote the screenplays of the sequels for both of those films—Alice Through the Looking Glass (2016) and Maleficent: Mistress of Evil (2019).
Refreshments will be served.