Windsor Square Hancock Park Historical Society Store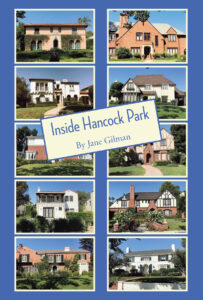 Larchmont Chronicle pioneer and historical society co-founder, Jane Gilman has written a book about what she knows best, Hancock Park. She puts Hancock Park into the palm of your hand with ease and grace. This is a sweet book that would be a great gift for the holidays. Each book will be purchased directly by us from Chevalier's Bookstore and autographed by Jane, herself. Please think of friends and family who may like this sweet gift of Hancock Park for Christmas, Chanukah, birthdays, etc.
$25 + ($3 shipping) for the book
$25 curb-side pick up of the book at Chevalier's Bookstore 126 N Larchmont Blvd, Los Angeles, CA 90004
In the late 70's then historical society President, Sid Adair commissioned artist Walter Askin to do a map of the original Rancho La Brea boundary lines. What Askiin came up with was a colorful and whimsical print which only he can do. This print was sold to members at that time for $95.00. They are very rare and only one is currently on display for sale on Ebay for $603.00.  While moving from our old storage space to our new office we discovered a few more of them and are offering them to our members first for a gift/donation to the society of $500. or more.
Walter Askin, painter, print maker, sculptor and professor, was born in Pasadena, California on the 12th of September 1929. He studied sculpture, painting and printmaking at the Pasadena City College where one of his mentors was Leonard Edmondson. Askin went on to study at the University of California Berkeley where he earned his BA and MA degrees as a Calmerton Scholar in Art and continued graduate work at Oxford where he helped start the Museum of Modern Art. His first one-person show was at the DeYoung Museum in San Francisco while he worked as assistant curator at the Legion of Honor.
He began his lengthy teaching career at the California State University, Los Angeles in 1956 where he became Professor of Art. He was also a visiting professor at the University of California Berkeley; the California State University, Long Beach; and the University of Hawaii. He served on the board of trustees of Pasadena Art Museum; Los Angeles Institute of Contemporary Art; as the artist representative to the Graphics Arts Council of the Los Angeles County Museum of Art and on the board of governors for Baxter Art Gallery at California Institute of Technology. He was an adjunct Professor in the Visual Arts Research Institute at Arizona State University and twice an invited artist at the Tamarind Institute at the University of New Mexico.
Askin is a member of the College Art Association of America and was president of the Los Angeles Printmaking Society. He was honored with many awards for his teaching and his art and his work is represented in the collections of the Albright-Knox Gallery, Buffalo, New York; the Museum of Contemporary Art Chicago; the Kunstlerhaus, Vienna; the Oxford Museum of Modern Art England; the Fine Arts Museums of San Francisco, the National Gallery in Washington, D.C.; the Norton Simon Museum and the Portland Museum of Art amongst many others.