AN AFTERNOON WITH NANCY OLSON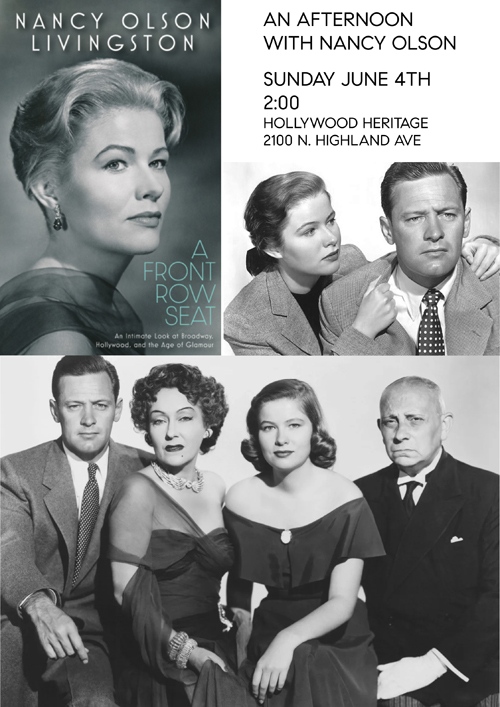 At the young age of 22 actress Nancy Olson had the great fortune of being cast in the ingenue role in a film starring William Holden, Gloria Swanson and Erich Von Stroheim. That motion picture was the epic Sunset Boulevard. For this picture she was nominated for an Academy Award. The film Sunset Boulevard has always been near and dear to the residents of Windsor Square and Hancock Park since it was filmed in a mansion once located at the intersection of Crenshaw and Wilshire Boulevard.
Member Price $25
Non-members $45
SUNDAY JUNE 4TH 2:00
HOLLYWOOD HERITAGE 2100 N. HIGHLAND AVE
Nancy Olson went on to star in many other films including The Absent Minded Professor, Pollyanna and Airport just to name a few. She has also appeared on Television and Broadway. An accomplished actress, wife and mother Nancy Olson is also an author. In a joint venture with Hollywood Heritage we will be listening to Ms. Olson about her life and career on Sunday, June 4th at the Hollywood Heritage location, 2100 N. Highland Ave. Books will be on sale for Ms. Olson to sign. 
We are limited to just 35 people so get your tickets now.