340 So. Plymouth Boulevard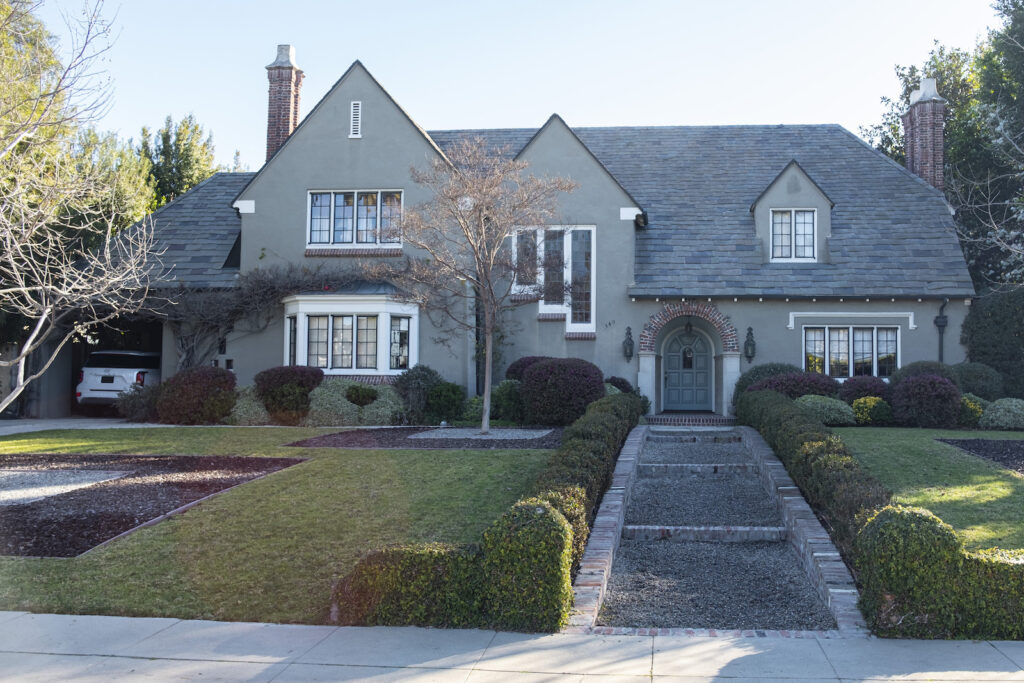 This home was built in 1926, during a time of prosperity following World War I, at an estimated cost of $20,000 plus $2,500 for the garage and servants' rooms. Although Old Windsor Square began its development around 1911, it was in the 1920s that Los Angeles experienced growth in enormous proportions.
The lot was purchased in 1923 by Martha Banks, wife of Thomas W. Banks, vice president of Banks, Huntley Company, investment bankers, perhaps as an investment. Windsor Square was originally developed with building restrictions which assured investors that a discerning builder would pay any price to live in this fashionable, affluent and up-scale neighborhood.
The home was designed and constructed by an outstanding architect, Arthur Rowland Kelly, who was born and educated in Iowa. He attended Cornell University and State Agricultural and Engineering College of Iowa where he studied architecture. He moved to California in 1902 and began a practice in 1907 that led to the formation of Kelly & (Joe) Estep Associates in the mid 1920s. Until this partnership, his talent grew with commissions for hotels, schools, commercial buildings and residences for wealthy clients. Homes he designed for prominent citizens include H.H. Culver, Culver City; Harold Janss, and A.J Sayer. From 1907 until he partnered with Joe Estep, he designed the Biltmore Hotel (5th and Los Angeles Streets); Hollywood Women's Club; and Hotel Christie, Hollywood. With Estep, their work appeared in issues of "Architectural Digest" with illustrated plans for residences of Irwin J. Meema; and Arthur Letts, Jr., founder, Broadway department stores. The Letts home in Holmby Hills is now known as the Playboy Mansion. The list of Kelly's accomplishments goes on and on.
This home is made up of a number of architectural motifs favored for Tudors: an irregular composition of steeply pitched roofs, bands of casement windows, half timbering and highly ornamental stack chimneys. The tri-partite steeped windows on the staircase are not a Tudor detail; however, leaded glass windows are a key element in many Tudor Revivals. The stained-glass medallion in each window showing a galleon, under full sail, a shield surrounded by a crown, and a shield entwined with swags, were popular motifs in the 1920s. The shields are understandable because they refer to the heraldic tradition in medieval England. The galleon has no historical precedent, and in fact, is usually found on Spanish Revivals here as it is a popular motif for weather vanes.
The home was built for Myron C. Albertson. Nothing is know about Albertson or the next owner, M.J. Gerry. Between 1969 and 1978, Renee and Pierre Taix of the Taix family owned the home. They operated a French food restaurant on Sunset Boulevard that has become an institution and is still in business today. Research found nothing on subsequent owners.
Built in 1926
Architect Arthur Rowland Kelly
Original research Fluff McLean, 2002
Text by Martin Eli Weil and Fluff McLean, 2002 Transcribed by Barbara Coad, April 2021 Edited by Bret Parsons, January 2022