332 So. Plymouth Boulevard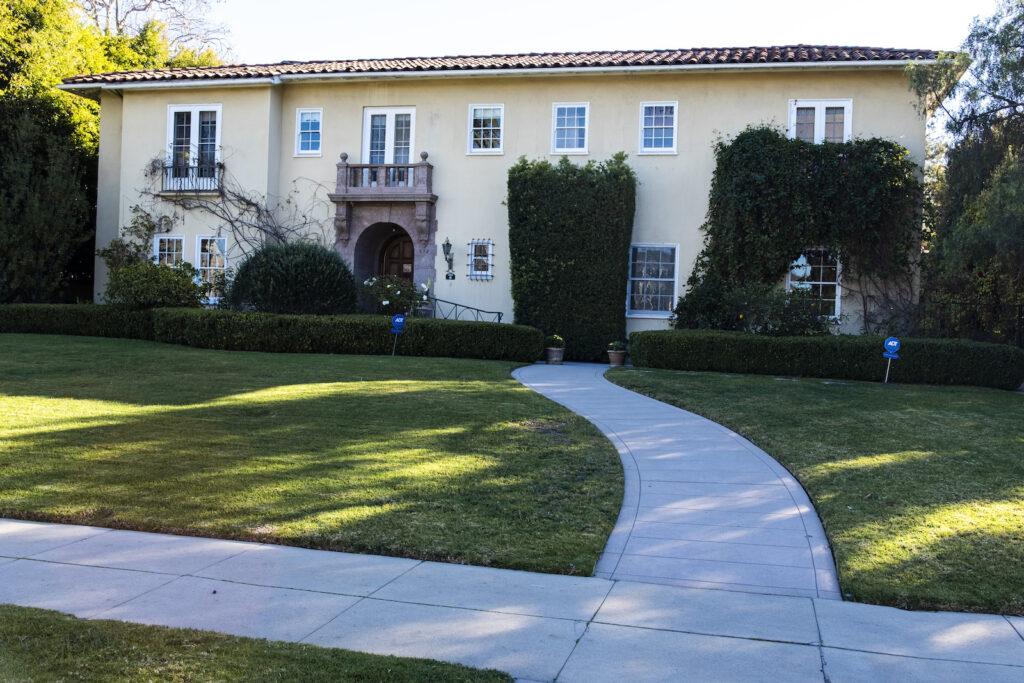 This home, an 11-room residence, was built in 1919 for Mr. Edgar S. Dulin by the Milwaukee Building Company. The estimated cost of construction was $25,000. Mr. Dulin was born in San Diego, educated in Los Angeles and attended the University of California. In 1915 he started working for Blankenhorn-Hunter as a salesman in the bond department of the Pasadena office. He left briefly to serve in the Navy in 1918. Upon his return, he assumed the post of vice president of the re-formed Blankenhorn-Hunter-Dulin investment firm in 1919, the same year he built his Windsor Square home. In 1929, Mr. Dulin constructed a private garage with a laundry and tool room on the first floor plus a chauffeur's room and bath on the second floor valued at $3,500. In 1936 ownership transferred to his wife, presumably his widow Sueadele Dulin. Mrs. Dulin sold the house in 1943 to Oliver D. and Elizabeth E. Lloyd. In 1958, Dale D. and Elizabeth E. Lloyd took ownership of the property where it remained until 1997 when the current owners purchased the home.
The architects, Gabriel S. Meyer and Philip W. Holler, were known as the Milwaukee Building Company and were active from approximately 1915 to 1931.  Why they chose the name Milwaukee Building Company is a mystery.  One of the firm's 1914 commissions was the home of Sam and Saddie Behrendt at 435 So. Windsor Boulevard.  They also designed the Paul P. Paulson residence, now known as Getty House at 605 So. Irving Street in 1920.  In 1976, Getty House became the official mayor's residence for City of Los Angeles.  They designed several other houses on South Plymouth Boulevard including numbers 405, 504 and 606.
In 1920 Meyer and Holler designed a French Normandy style movie studio for Louis B. Mayer.  That commission initiated an enormous volume of work for other commercial buildings.  All across the south land, Meyer and Holler built a number of buildings including theaters, banks and churches.  They are best known for some of Hollywood's most striking landmarks, including Grauman's Chinese Theatre.  In 1924 they received the California Chapter of the American Institute of Architects Award for the Hollywood Athletic Club.
Select commissions of Meyer and Holler include:  Louis B. Mayer Studios (3800 Mission Road) 1920; Granada Theater, Hollywood (Sunset near Vista) 1921; Egyptian Theater, Hollywood (now American Cinematheque) 1922; Hollywood Athletic Club (6521 Hollywood Boulevard) 1924; Grauman's Chinese Theatre, Hollywood, 1927; The Clem E. Wilson Building (now Ashi, NE corner of Wilshire and LaBrea) 1929.
built in 1919
Architects, Gabriel S. Meyer and Philip W. Holler, were known as the Milwaukee Building Company
Original research by Fluff McLean and Sue Landy Text by Patty Lombard
Transcribed by Barbara Coad, April 2021 Edited by Bret Parsons, January 2022