325 So. Plymouth Boulevard, Windsor Square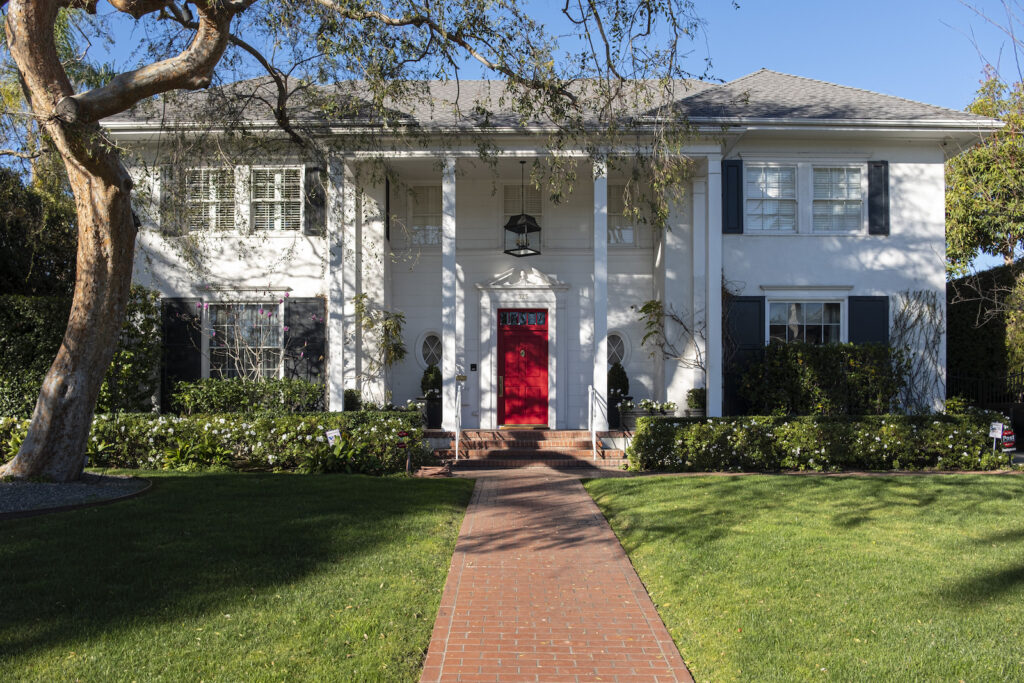 Augusta A. and Mary Leona Nelson are listed as the first owners of the property in 1919. Mrs. Mary L. Nelson was one of the founding members of the ladies' auxiliary branch of the Ocean Queen Rebekah Lodge, chartered August 3, 1895 in the Harbor District of Los Angeles. The building permit lists Leona H. Tyler receiving a permit to build a 12-room family home and private garage in December of 1919. Estimated value of the construction was $20,000.
R.D. Jones was the architect and S.M. Cooper was the contractor. Not much is known about the architect although he designed several homes in the area including 542 So. Irving Boulevard and 450 No. June Street. Jones usually worked in conjunction with contractor/builder Sansom M. Cooper. Mr. Cooper is credited with building hundreds of homes in Windsor Square and resided at 435 So. Lorraine Boulevard.
The Tyler family sold the home in 1923 to Irene and T.J. Washburn who modified the house in 1924 by adding a roof over a balcony on the second story. In 1928 the house was sold to Lloyd M. MacDonald who transferred ownership to Leah L. MacDonald in 1935. In 1936, the home was purchased by Albert Dippell. He renovated two bathrooms in 1940 and also renovated the front porch. He sold the home in 1941 to William D. and Eula H. Waltman. In 1946 the house was sold to Robert S. Young. The following year, the house was sold to William D. Waterman. In 1958, Eula Waltman repurchased the home which she kept until 1966. Harold and Mary S. Ross owned the home from 1966-1974. Then Tokai Bank owned the home and constructed the swimming pool in 1974. From 1974-1984 Paul H. and Mallie M. Nankivell owned the home.
In 1984 the current owners purchased the home.  Over the years they have renovated the pool, bolted the house to its foundation, and most recently completed a wonderful renovation of the kitchen plus adding a family room.
Built 1919
R.D. Jones was the architect
Original research by Fluff McLean and Sue Landy, 2002 Text by Patty Lombard, 2002 Transcribed by Barbara Coad, April 2021 Edited by Bret Parsons, January 2022