455 So. Lorraine Boulevard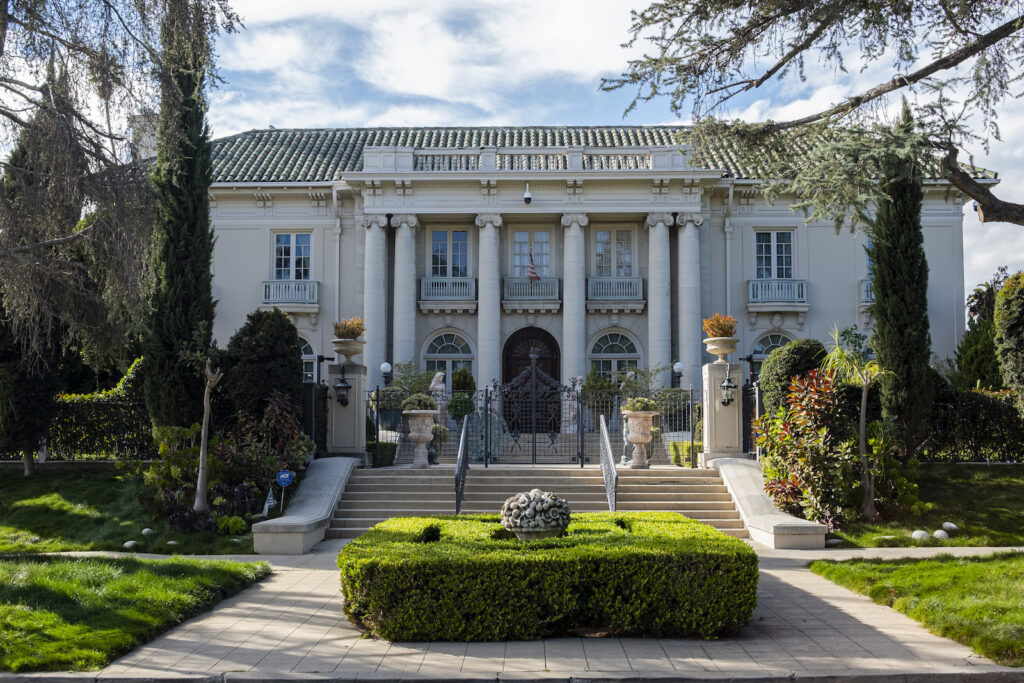 Architects: J. Martyn Haenke, William Dodd, Julia Morgan
When architects J. Martyn Haenke, William Dodd, and Julia Morgan designed this house for Dr. Peter Janss in 1913, Beaux-Arts was the last word in design. Julia Morgan's most famous designs and collaborations are the Fairmont Hotel, the Hopi gift shop at the Grand Canyon, and numerous projects for publisher William Hearst including Hearst Castle, the Herald-Examiner Building, and Ocean House, a gigantic Santa Monica beach house designed for his mistress, actress Marian Davies. Dodd designed many homes for the city's elite as well as the Uplifters club building. Haenke designed the entrance gates to Fremont Place.
Based on ideas taught at the Ecole des Beaux-Arts in Paris between 1885 and 1920, this style was widely proselytized by many American graduates of the school. It's characterized by grandiosity derived from formal planning and frequent over-reach decoration. By mid-20th century the style had fallen from popularity. Frank Lloyd Wright called Beaux-Arts homes and buildings "Frenchite pastry."
Dr. Janss was a major figure in the development of Los Angeles. He arrived in Los Angeles in 1893 to practice medicine, but 1906 discovered there was more money in property than prescriptions and formed Janss Investment Company with his sons Edwin and Harold. They developed Boyle Heights, Van Nuys, and a most significant development: a 3,000-acre ranch on the west side of Los Angeles where UCLA was built.
This 9,500 square-foot home was built on a one-acre site which also contains a guest cottage, three-car garage with a two-bedroom apartment, and a reflecting pool. The home's formal exterior includes wrought-iron gates, open porches with Ionic columns, three chimneys, and an ornamental mahogany front door. Hand-carved walnut, oak, and mahogany paneling cover the walls of the entrance hall and living room which boasts 18th century columns and a wall fresco from a Venetian palace. The formal dining room is paneled in 18th century "boiserie" from a French château. The kitchen and family room encompass four rooms that were combined but many of the details such as the faucets, sinks and other original features remain. The 32 x 23' music room was brought from an Austrian or German castle and features hand-painted silk panels. There are six bedrooms and eight bathrooms.
Norman and Dorothy Chandler acquired the home in 1953 from the estate of Lewis Stone who was best known for his role as Judge James Hardy in the "Andy Hardy" film series. He was nominated for the Academy Award for Best Actor in 1929 for "The Patriot." He reportedly suffered a heart attack while chasing away neighborhood kids seen throwing rocks at his garage. A group of rowdy teenagers had invaded his meticulously kept garden, and he ran out to prevent damage and ask them to leave. The effort proved too much for him and he collapsed of a heart attack, dying almost instantly.
When Norman Chandler bought the house he was publisher of the "Los Angeles Times." He and his wife named the house "Los Tiempos" (The Times), and it served as the unofficial western White House. Presidents Eisenhower, Kennedy, Johnson and Nixon were guests. Mrs. Chandler used the residence to entertain diplomats and other luminaries in her efforts to raise money to build the Music Center complex in downtown Los Angeles during the early 1960s.
Built 1913
Architects: J. Martyn Haenke, William Dodd, Julia Morgan

Transcribed by Jane Gilman, March 2012 Edited by Bret Parsons, January 2022