102 No. Norton Avenue, New Windsor Square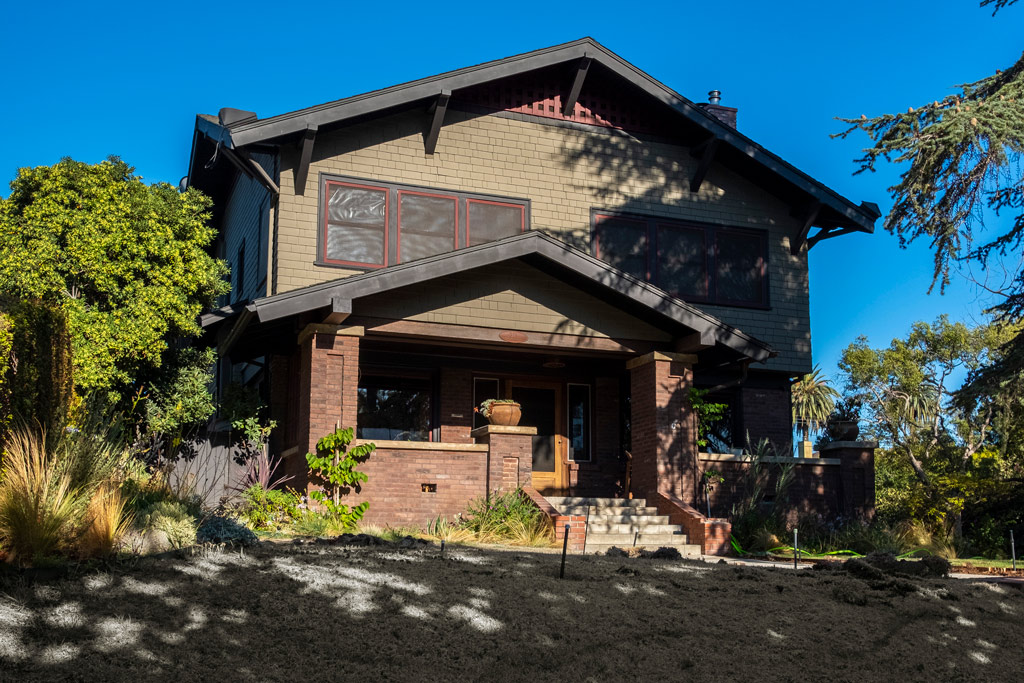 From "The Historical Observer"
Fall 2004
Although tax records show real estate mogul Gilbert S. Wright owing this property from 1912-1915, the permits to build the house and garage were taken out in 1914 under the name of Arthur Jones, the owner of record between 1915 and 1918.
No architect is credited with either structure, but John F. Andrews Jr., served as contractor. At the time of construction, Andrews had offices at 606 So. Hill Street. Andrews' father, John F. Andrews Sr., originally from Kansas, was vice president of the German American Trust and Savings Bank.
The permit for the original house proposed a residence of two stories with nine rooms. Construction cost was estimated at $5K. The one-story garage was to cost $100.
Because Jones is such a common name, it's difficult to confirm the first resident. Two possibilities include Arthur M. Jones who appears in the 1908 city directory as working in real estate, and Arthur C. Jones, who appears in "Who's Who in California 1928-29" as born in 1891, married in 1909, and working at Armour & Co., in Los Angeles between 1910-21. The latter purchased an interest in Piggly Wiggly Western States Co. in 1921, reorganized the company and increased the grocery chain from 20 to more than 200 stores.
George B.M. Rogers owned the house between 1918-1922, and Grace G. Tatum between 1922-1942.  In the 1938 city directory John G. & Alison Tatum are listed.  At the time, John G. Tatum was a French teacher at Los Angeles Junior College.
Between 1941-1942, the house changed hands twice and two permits were obtained. The first permit, January 1941, listed the owner as H.O.L.C of 417 South Hill. The second permit, September 1941, shows Mrs. E.M. Robertson as the owner. Her name does not appear in the tax records, possibly because she owned the house for such a short time. Robertson removed doors and installed two combination doors, one in the service porch and one in the sun room. She also installed two steel medicine cabinets and building shelves in the basement, a metal ironing board and "wire over louvres" in the attic.
Elise M. Stansel is shown as a purchaser 1942, as are Margaret & Arthur Kelter. Margaret remained in the house until 1953, one year after her husband's death. The Kellers enclosed a ground-floor deck in 1945.
Mrs. Kelter sold to Frank J. Hogan in 1953; he owned the house for almost 20 years. Subsequent owners include James J. & Sheila Wallis (1974-1976), Christina M. Anderson (1976-1978), Edward L. Carfagno and George J. Hummer (1978-1982), and Craig R. Webb & Julie Evershade (1982-98). Evershade is a well-known sound editor who has worked on move than 75 movies since 1983 including "Top Gun," "Beauty and the Beast," "Batman Returns," "8 Mile," and two "Matrix" movies.
Webb and Evershade sold the house to its current owners in 1998.
Transcribed and edited by Bret Parsons, March 2022.