100 No. Irving Boulevard, New Windsor Square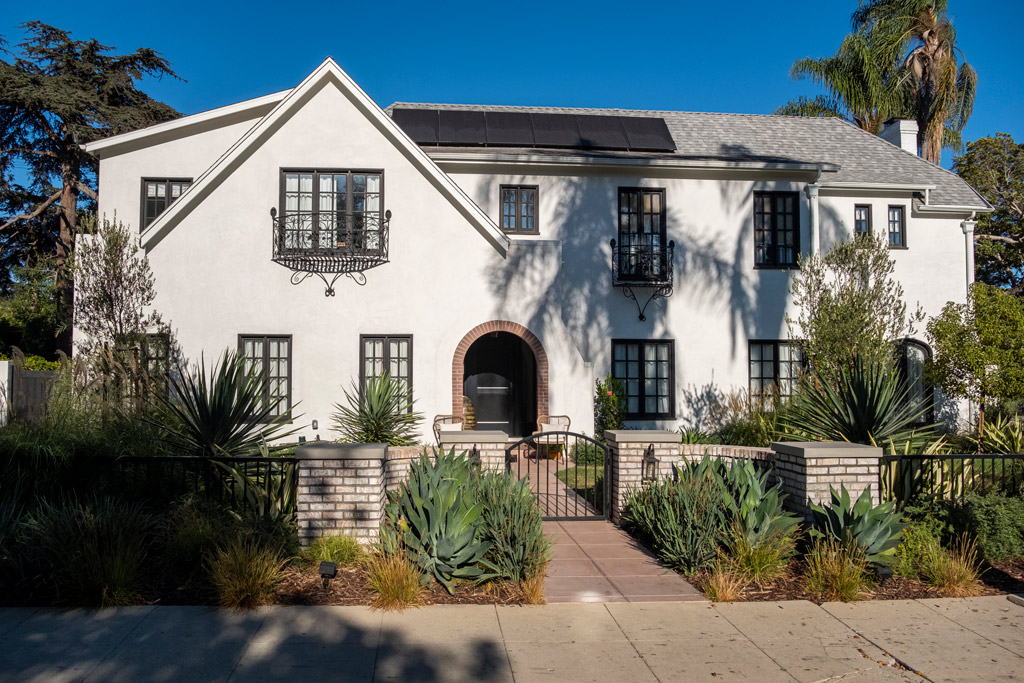 From "The Larchmont Chronicle" June 2016
by Richard Battaglia
The 3,564 square foot house at the corner of First Street and Irving Boulevard sits on a 10,396 square foot lot, and is nestled, or more to the point, hidden, on a quiet corner. For years one of the most identifying items of this northeast corner property was the over two-story-high wisteria tree with its wide-ranging vines growing to the top of the chimney. Unchallenged for decades and only recently trimmed, this home has had a lavender curtain of the flower draping it like a waterfall as one takes a leisurely stroll or drives eastward crossing Irving.
The property was built by Edith and R.H. Ahrens who purchased the lot on August 16, 1922. The couple also owned 250 No. Gramercy Place which they advertised for sale as a bungalow and garage to sell for $4,000 and $200, respectively, in 1920. Perhaps the monies from that transaction paid for the construction of Irving.
On March 3, 1923, 100 No. Irving was sold to Edward Kline Lincoln (E.K.) and his wife Ada Olive Lincoln. E.K. was born in Johnstown, Pennsylvania and became one of the innovators of the early cinema, building one of the first studios in Fort Lee, New Jersey. Fort Lee was actually the motion picture capital of the world for a while. Grantwood Studio, aka E.K. Lincoln Studio, was built on Bergen Boulevard in Grantwood just south of Fort Lee. Many greats of the early film world worked out of this studio. The first production was "The Fighting Chance." Between 1916 and 1917, the studio was rented by Fox Film Corporation followed by others. After talkies came about in 1927 the studio continued to be used for Italian and Polish language films. By the end of the Depression, it was no longer used for film production and burned down in the 1960s.
Ada Olive Lincoln (1871-1940) was born Ada Olive Proctor and was the daughter of William Fash Proctor and Vouletti Theresa Proctor (Singer). She was an heiress of the Singer sewing machine company. She had previously been married to Walter William Price and then to Charles Manning Van Heusen. She sued Van Heusen for extortion according to the "New York Times" on August 31, 1919. Mr. Van Heusen allegedly extorted money from his ex-wife after they divorced in 1915. Ada and Charles had one daughter, Elizabeth, but not much is known about her.
E.K. and Ada spent many happy years together on Irving until her death in 1940. A few years later E. K. met a woman from North Dakota by the name of Lillie and they married. E.K. died in 1958 and is buried at Forest Lawn in Glendale. Lillie died in 1972.

An heir to the estate of Lillie Lincoln, Edinah H. Lincoln, sold the house to costume legend Rita Riggs in June 1973. A woman of low profile in the neighborhood but a giant in her chosen field, Rita Riggs purchased the property with her parents J.Elmus Riggs and Aida V. Keeling. This was years after the family emigrated from Lead Hill, Arkansas, to Los Angeles in 1943. After two years at Santa Ana College, Riggs went to the University of Arizona to work under Mr. Fairfax Proudfit Walkup (yes, his real name). After an interview at NBC in 1954, CBS hired Riggs the next day and her first assignment was in the costume department for "Shower Of Stars." This was just two years after CBS took up residence in the landmark Television City building on Fairfax and Beverly designed by William Pereira.
Costume design on "Climax!" and "Playhouse 90" followed "Shower of Stars." Riggs then worked on "Alfred Hitchcock Presents" which led to work on the films "Psycho," "The Birds," and "Marnie." In the film "Divorce American Style" she met Norman Lear and Bud Yorkin which led to a long association with the men who would later create "All In The Family." Riggs and Don Roberts created the sepia "family album" look of the show. Riggs was also the costume designer for "Maude," "Sanford and Son," "Good Times," "One Day At A Time," "Mary Hartman, Mary Hartman," and "The Jeffersons."
In 2003 Rita Riggs received the Career Achievement Award in Television from the Costume Designers Guild Awards. Go to https://youtu.be/oUcv_LUPdhc for a very interesting seven-part oral history interview with this accomplished woman.
Transcribed and edited by Bret Parsons, March 2022