120 No. Norton Avenue, Windsor Square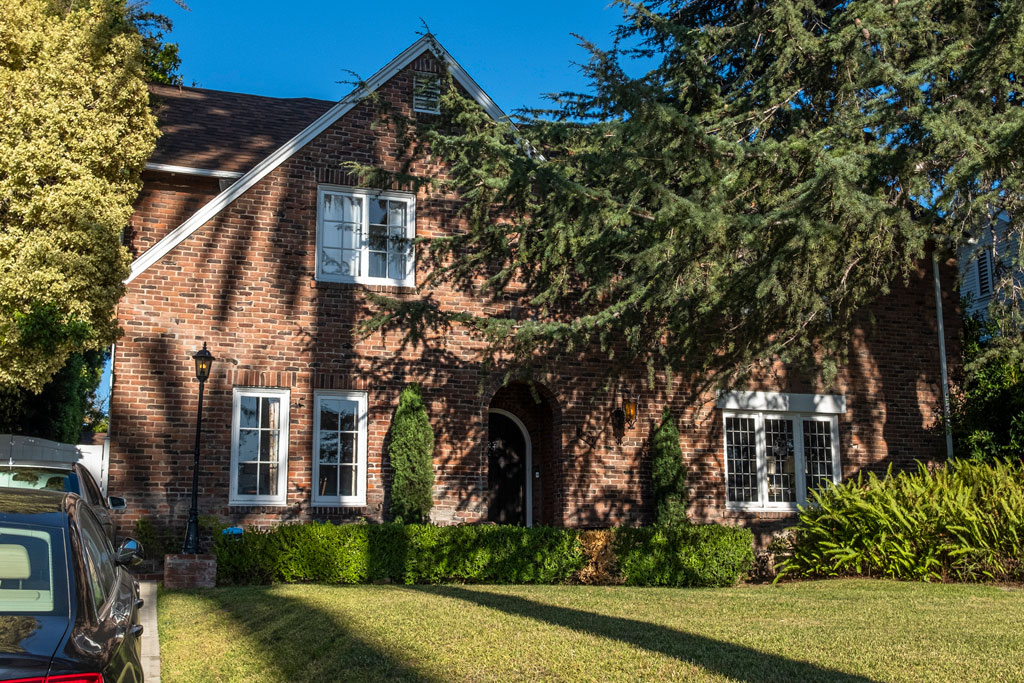 The John G. Mathieson residence is by architect Paul Williams completed in the early 1920s. The two-story, three bedroom, brick English miniature exemplifies one of Williams' design philosophies: making maximum use of functional space.
The floor plan remains functional to this day allowing the smooth flow of guests and residents alike. When Mr. Mathieson purchased the home over six years ago from its previous owner, David Smith, he put his considerable energy and creativity into improving an already good design. The existing living room fireplace was rescued from a house about to be demolished on Hoover Street in Los Angeles.  The living room ceiling, originally concave, was pulled down to prepare for the current flat ceiling.  To the rear of the home a patio was demolished (14 inches of concrete jackhammered and removed), and a room was added utilizing many old, recycled windows scavenged from homes about to be raised.
Throughout the remodeling phase Mr. Mathieson carefully chose items which would blend with the evolving decor to enhance its warm feeling. The original carpeting was pulled up and the oak floors refinished. A non-functional cast iron fireplace was added to the dining room and virtually every shrub was removed from the backyard to be replaced by handpicked greenery. Recycled balustrades were incorporated into the landscape design.
Much of the furniture originally belonged to a Norton Avenue resident, Mr. Aldrich, and after being part of a home for years in Laguna Beach, all was purchased by Mr. Mathieson and returned within hundreds of yards of its original location. In total, the effect achieved by the extensive remodeling has been to enhance the warmth, charm and feeling of an early Paul Williams design.
From Spring 1977
Transcribed by Beate Kessler, June 2021
Edited by Bret Parsons, February 2022