144 No. Norton Avenue, Windsor Square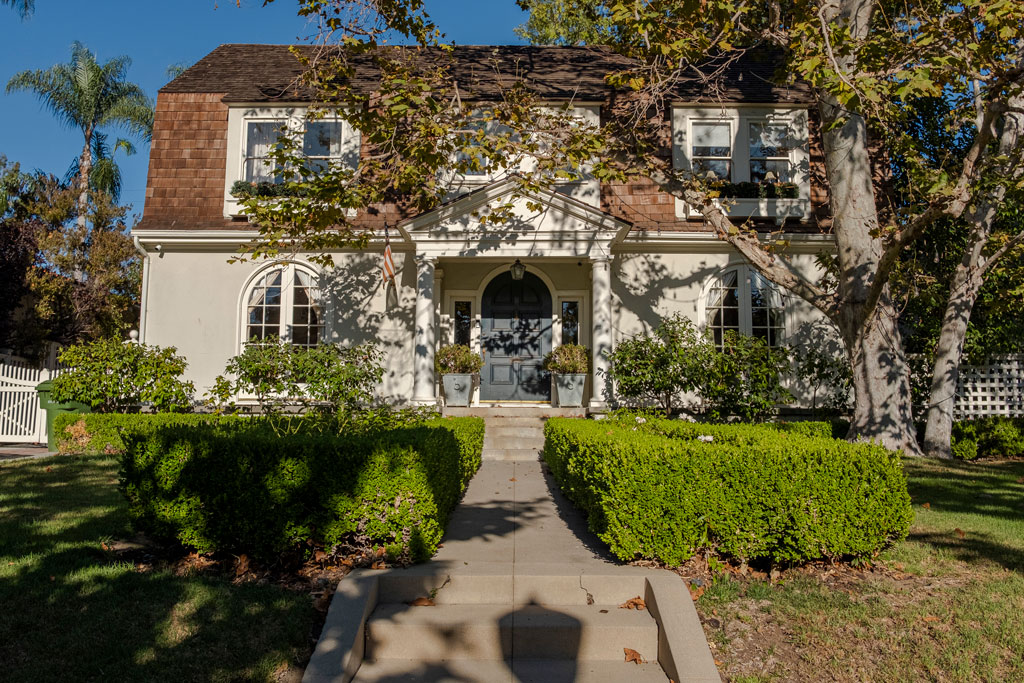 From "The Historical Observer"
Fall 2004
This property was originally part of the tract owned by Gilbert S. Wright, who is the owner of record from 1912 to 1923. The Dutch Colonial Revival house was built in 1921, most likely on spec. Permit number 2017 describes an eight-room house, two stories in height, to be built at a cost of $8,500. A separate permit, number 2018, was issued for a one-story garage at a cost of $300.
The well-known architecture firm S.M. Cooper provided both architectural and contracting services for both buildings, with R. (Robert) D. Jones serving as architect and S.M. Cooper himself as contractor.
In 1923 the finished house was sold to dentist George M. Hollenback and his wife Florence. Dr. Hollenbeck had his office at 325 W. Eighth Street in 1925, and one can imagine his street car commute down Sixth Street from his home on Norton. The Hollenbacks took out a permit in 1926 to add eight feet to one end of the garage, as well as raising the roof three and a half feet "to make building 1-1/2 stories high." The permit also specified that the walls and ceiling of the garage would be fireproofed, and that no opening from the garage into the new living quarters upstairs would be installed. The garage was described as also housing "laundry and storage."
In 1928 the Hollenbacks added a six-by-seven square foot bathroom to the house. They owned the property until 1944.
From 1944-'56, Ella L. & C. Evers Whyte owned the home. C. Evers Whyte, who died in 1954, was a commercial artist who's listed in the Dictionary of Art and Artists of Southern California in the 1930s. He had offices at 124 W. Sixth Street from 1926 through 1930, subsequently moving to the Grosse Building at Sixth and Spring.
Later owners include Marie G. & William C. Brooks, Jr. (1956-'72), Helen C. Mansfield (1972-'82) and Frank F. & Anne S. Bates (1982-'88.)
The current owners purchased the home in 1988 from the Bates and have done very sensitive renovations. In 1988 they added a bathroom and "retreat room," or salon, off the master bedroom on the second floor and extended the family room and breakfast nook on the first floor. Their kitchen cabinets, although recently installed, were built to match the originals in the house.
Transcribed and edited by Bret Parsons, June 2022