215 No. Norton Avenue, Windsor Square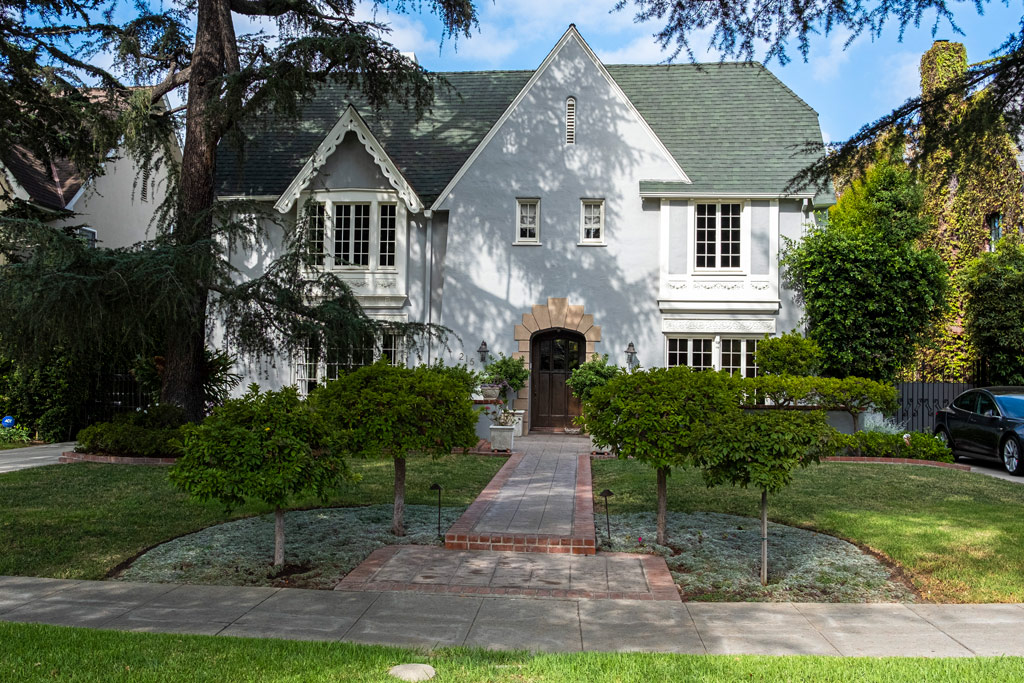 From "The Historical Observer"
Fall 2004
Although the original permit for this lovely home is not on file, we do know quite a bit about the renovations that have made it the showplace it is.
The house was built in 1924 and was purchased two years later by William O. Sampson. Sampson started his career at Bullocks as a bookkeeper in 1910 and rose to be its secretary-treasurer by 1925. He held those positions, as well as serving as the president of Bullocks' Board of Directors, at his death on Christmas Even 1930 at the age of 58.
At his funeral, held a week later at First Methodist Church, J.G. Bullock called him "a man of conscience, conviction and courage…loyal to his God, to humanity and his own best self, and those who knew him longest loved him best." More than 1,000 mourners attended the service on New Year's Eve day.
Sampson had served as chairman of the music committee and superintendent of the Sunday School of the First Methodist Church. He was treasurer of the building committee responsible for the erection of the new church building on Hope Street. His estate owned the house until 1934 when it was sold to Lewis B. Robinson.
Robinson only owned the house a year, selling it in 1935 to Thornton V. Allen. Allen was a pioneering retailer in Los Angeles. He was born in Cincinnati in 1889. He was employed by Bastian Brothers, a manufacturing stationery and jewelry novelty house in Rochester, NY, from 1908-1912, when he moved to Los Angeles and founded T.V. Allen Company, "manufacturing stationery and jewelry, specializing in commercial pricing and engraving, school and college stationery and jewelry, cups, medals, trophies and Christmas cards."
Prior to living in the home, Allen is listed in Who's Who in Los Angeles 1925-26 as "a member of the Rancho Golf Club, California Yacht Club, Los Angeles Athletic Club and the Kiwanis Club" with a residence at 969 Westchester Place. It appears that he died in 1972, at which point the Norton Avenue house passed to Elizabeth C. Allen.
During the time he owned the house, T.V. Allen, as he is listed on the permits and in the name of his company, enlarged the home's living space by enclosing a slab porch.  He also converted an interior closet to a bathroom, adding a water closet, lavatory and tub, according to the permit.
The current owners acquired the house in 1975 and in 1977 remodeled the kitchen, adding a concrete porch and trellis, They have done much more extensive renovations in the past few years. Between 2002 and 2003, they added slightly more than 1,000 square feet: a two-story addition, enlarging rear rooms and adding a new bathroom and elevator. In addition they retrofitted the foundation and added the pool and spa.
Transcribed and edited by Bret Parsons, June 2022.