211 South Muirfield Road, Hancock Park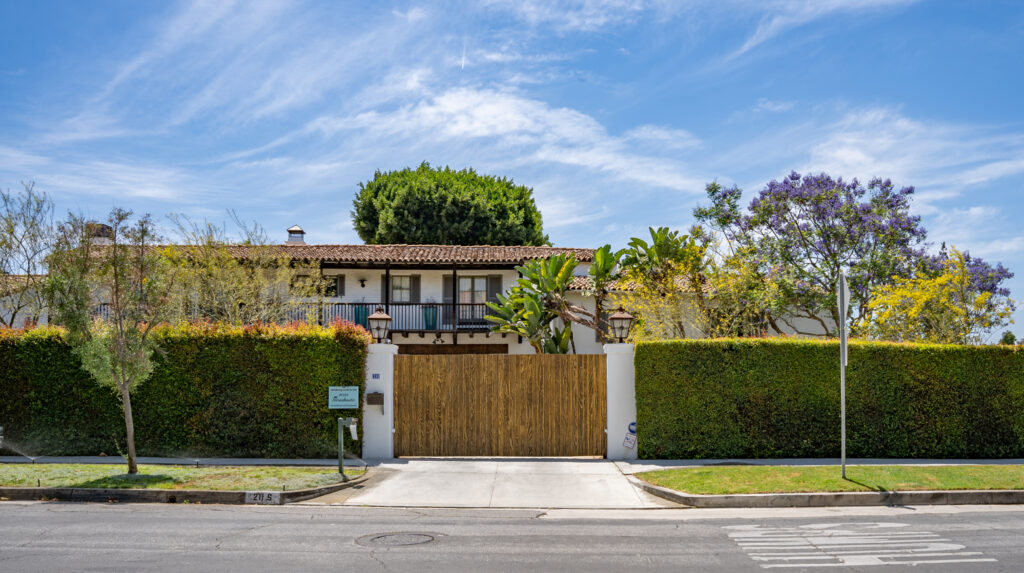 Architect: Roland E. Coate
Built 1926
This graceful, simple, yet elegant Andalusian-style home was designed by Roland Coate for Mr. & Mrs. Richard B. Fudger. Mr. Coate's designs were skillfully executed in several notable homes in Pasadena, Beverly Hills and Hancock Park. The Fudger home is a triumph of the Spanish Colonial Revival style. It was reviewed with an extensive photographic layout in Architectural Digest in 1928 and in Arts and Architecture the following year. Both publications praised the charm of the out-of-doors access, enclosed gardens, lacy iron balconies and rough-hewn beams. The facing views of the golf course is startling for an urban property.
Since the living rooms open on gardens at the side and rear of the property, the service yard faces the street, but is shielded by a high wall and a double row of trees, producing an effect which gives beauty and unity of composition to a practical utility.
            In 1936, Howard Hughes purchased this home and lived there for 15 years, "his happiest years…his movie period…15 years that found Hughes designing, building and flying record breaking planes as well as producing Hollywood films."  Another article refers to Mr. Hughes as "a handsome rake linked by columnists to a mind-boggling list of female stars.  It started with Billy Dove and ranged on through the stellar likes of Ginger Rogers, Katherine Hepburn, Ida Lupino, Elizabeth Taylor, Ava Gardner, Jane Russell, Jean Simmons, Mitzi Gaynor, Jean Harlow, Gina Lollobrigida, Zizi Jeanmearie, Sophia Loren and finally Jean Peters, whom he married, and Terry Moore, who says he married her first.  The "mansion is believed to be the only home Hughes ever lived in and also owned.  This home is the recipient of Historic Landmark Award #57 presented by the Windsor Square Hancock Park Historical Society in 1995.
By Bret Parsons