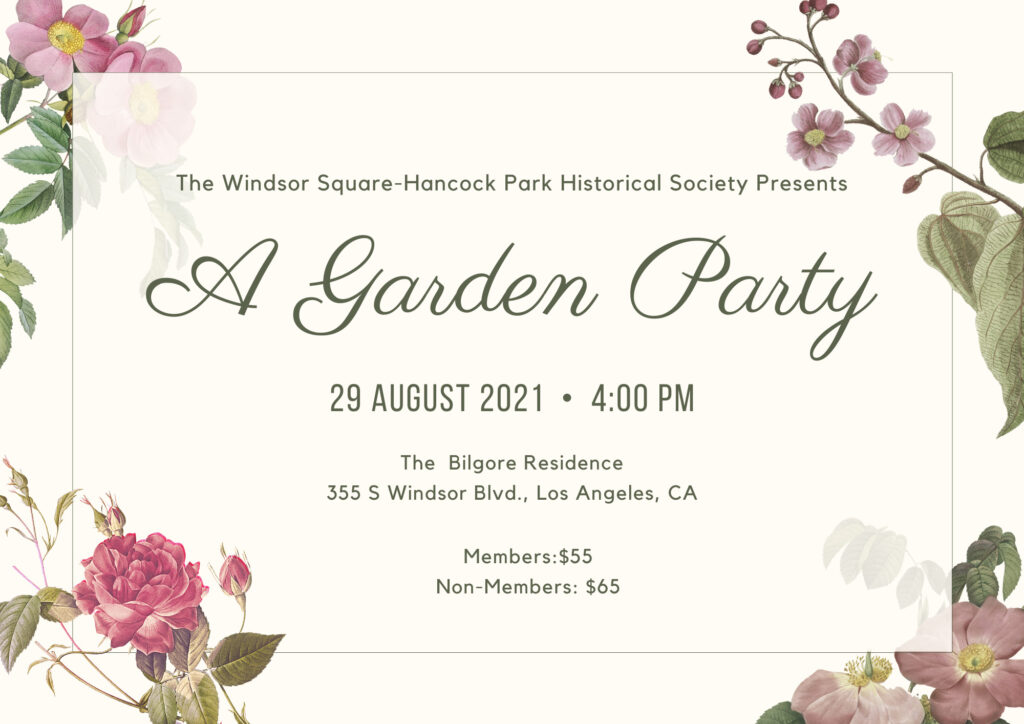 Sold out
On Sunday, August 29th at 4:00 you are invited to A Garden Party at the home of June Bilgore, 355 S. Windsor Blvd, Windsor Square. It is our Annual Meeting which usually takes place in June of each year. We had to pass over 2020 because of Covid but we are now back in the swing of things. This will be our first live event since February of 2020. This year our garden party will honor Captain Shannon Paulson of the Wilshire Division Police who, after years of watching over the Hancock Park area will be moving to a higher position within the Los Angeles Police Department. Her successor will also be present to be introduced to the neighborhood.
SUNDAY AUGUST 29, 2021
355 S. WINDSOR BLVD, WINDSOR SQUARE
I am happy to announce our special guest speaker will be Alison Martino who created the online community Vintage Los Angeles. Alison has over two million followers daily being delighted by her trivia and nuances on growing up in Los Angeles. Daughter of the late popular singer and actor, Al Martino, Alison has been dubbed the "Godmother Of Los Angeles." since her father played a prominent role in the movie, The Godfather as singer Johnny Fontane. Alison will be charming us with her colorful memories and interesting tidbits of growing up in the City Of The Angels.
For more information on Alison go to http://alisonmartino.com/
Price includes dinner and refreshments.
Tickets: Member Price $55. Non-Member price $65.