354 So. Windsor Boulevard – Windsor Square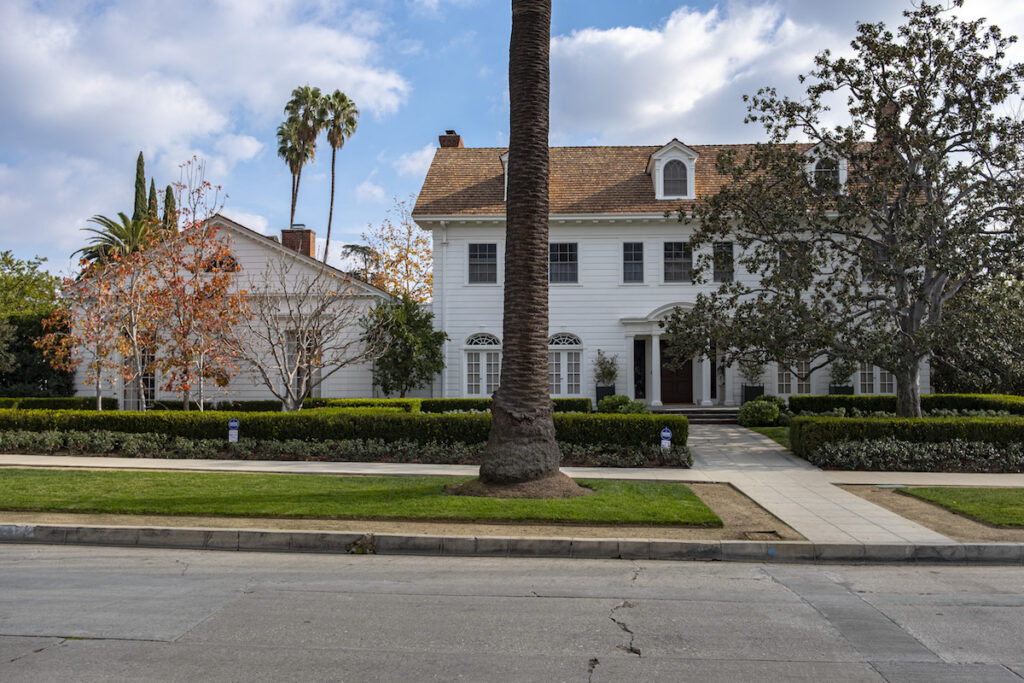 One of the most famous names in the history of Los Angeles is that of the Van Nuys family. Mr. Isaac Newton "I.N." Van Nuys had a city in the San Fernando Valley named for him by his old friend Harry Chandler. The family that owed its fortune to wheat farming were also leaders in banking. Mr. and Mrs. Van Nuys (Susanna Hill Lankershim) had two daughters, Annie Van Nuys and Kate Van Nuys (Page), and one son, Benton Van Nuys.
Kate Van Nuys Page, according to 1913 property records, owned two contiguous parcels going north from the northeast corner of Fourth and Windsor. The home was built in 1915, and in 1919, Mr. Curtis C. Colyear sold her the south twenty-five feet of lot 89 assembling the property as it appears today. It's interesting to note that although Kate married James Page, her name was consistently listed as Kate Van Nuys Page and only her name appears in the tax archives.
One of the subsequent owners of the house was developer and philanthropist Joseph Bolker who was married to Christina Onassis from 1971-72. He lived in this home with his last wife, Victoria, until his death in 1986.
The Victorian home directly to the east at Fourth and Lorraine belonged to Mrs. I.N. Van Nuys and also covered two and a quarter lots. It is our understanding that for many years, during the 1920s and 30s, these two homes shared gardens, a badminton court and other outside amenities to form a small compound in the heart of Los Angeles.
The elegant Colonial revival home features characteristic clapboard siding, a shake roof and third story dormer windows. The graceful entrance details begin with three front steps leading to an inset, full height paneled door framed by Doric columns. Four French doors (two each flanking the front door) are topped with arched glass transoms. Formal landscaping and trained topiaries complete this beautiful residence.
Mrs. Van Nuys Page chose the architectural firm of Hunt & Burns (Sumner P. Hunt, 1865-1938; Silas Reese Burns 1855-1940) to design the home. Some of the design teams greatest accomplishments were the Automobile Club of Southern California (1922-23), the Los Angeles Country Club, The Wilshire Country Club, the Southwest Museum at Mount Washington, and the Ebell of Los Angeles.
Other buildings attributed to Hunt & Burns include the Virginia Country Club, Hilcrest Country Club, Los Angeles Tennis Club, Virgil Junior High School, Rosemont High School, Vermont Avenue Intermediate School, Stevenson Junior High, and the Edward D. Silent company building.
Built in 1915, and in 1919
Architect – Hunt & Burns (Sumner P. Hunt, 1865-1938; Silas Reese Burns 1855-1940)