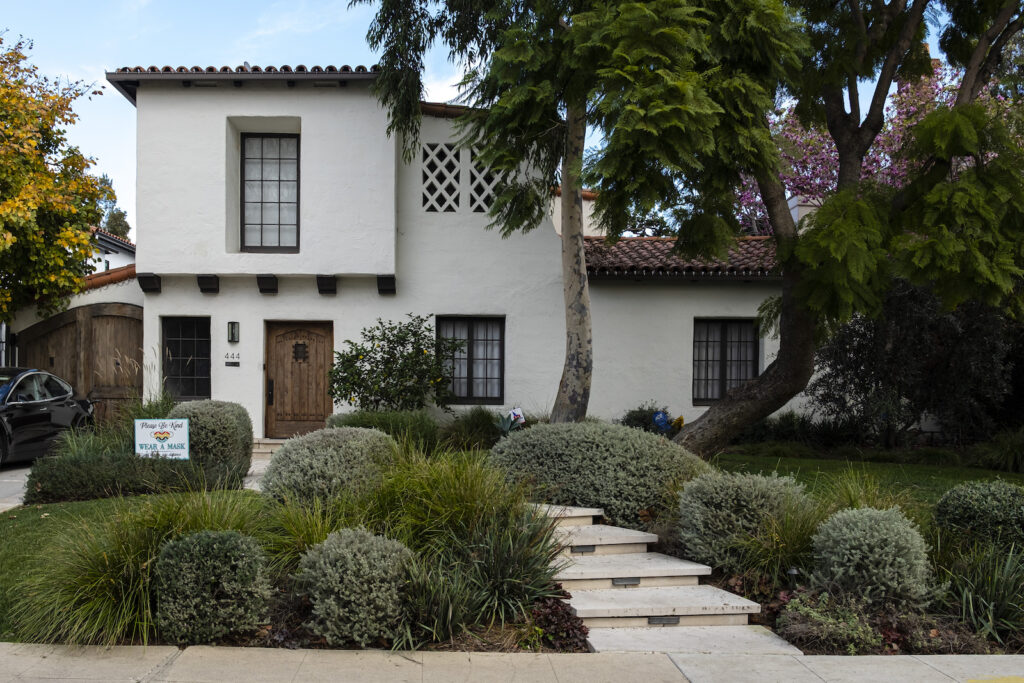 The lot was sold in 1925 to Lucy Powers and was valued at $1,800. The building permit for 444 N. McCadden Place was issued in 1926 showing William Howden, who lived at 313 No. Norton Avenue, and Rollo Howden, 332 No. Norton Avenue as the builders-owners. Tax records do not indicate that the property or home was owned by them or that they actually lived there. If the name Howden & Howden sounds familiar, they were also the contractors who constructed the two Paul Williams homes for the Banning family as well as many other homes in the area.
The home was designed by architect Don Uhl who had a great following in his career. His first office was located at 7024 Melrose Avenue, then later in the California Bank building in Beverly Hills. He built homes in Hancock Park, Beverly Hills and greater Southern California for many celebrities including a beach house in Malibu for actor Charles Farrell, a residence for Louis Mayer in Beverly Hills, and residences for many other notables.
First owner of record was Charles Flavel Turner, who purchased the home in 1927, probably at its completion.  Prior to moving to McCadden, the Turners lived in the east then moved to Imperial Valley to a ranch west of Calexico. Little is known about Charles, but his wife Ethel Totman Turner became the owner of the house in 1936.  She attended Vassar and began her life as a civic leader and club woman after they moved to the Imperial Valley.  There she was vice chairman of the Red Cross.  She moved with her family to their home in Big Bear Lake, and they moved back to Los Angeles in 1919 during the war where she devoted her time to her three children.  In 1922 she began her public work. She became president of the public affairs of the Woman's University Club, president of the Friday Morning Club and was active in the formation of the Southern California Legal Aid Clinic Association.  She was a member of the board of directors of the Southern California Society for Mental Hygiene.  She was featured in "Women of the West" (1928), "Who's Who in California" (1928-29), and again in "Who's Who in California" (1942-43), and the "History of Los Angeles."  She lived in the home until 1939.
The next owners were Faye G. Bennison and Mildred F. Bennison who remained there until 1976 when the home was sold to Sandra and Brian Cunneen. The current owners purchased the home in April 1999 and are actively restoring it to its original splendor.

Built in 1927
architect Don Uhl

Transcribed by Jane Gilman, June 2021 Edited by Bret Parsons, January 2022