500 So. Muirfield Road, Hancock Park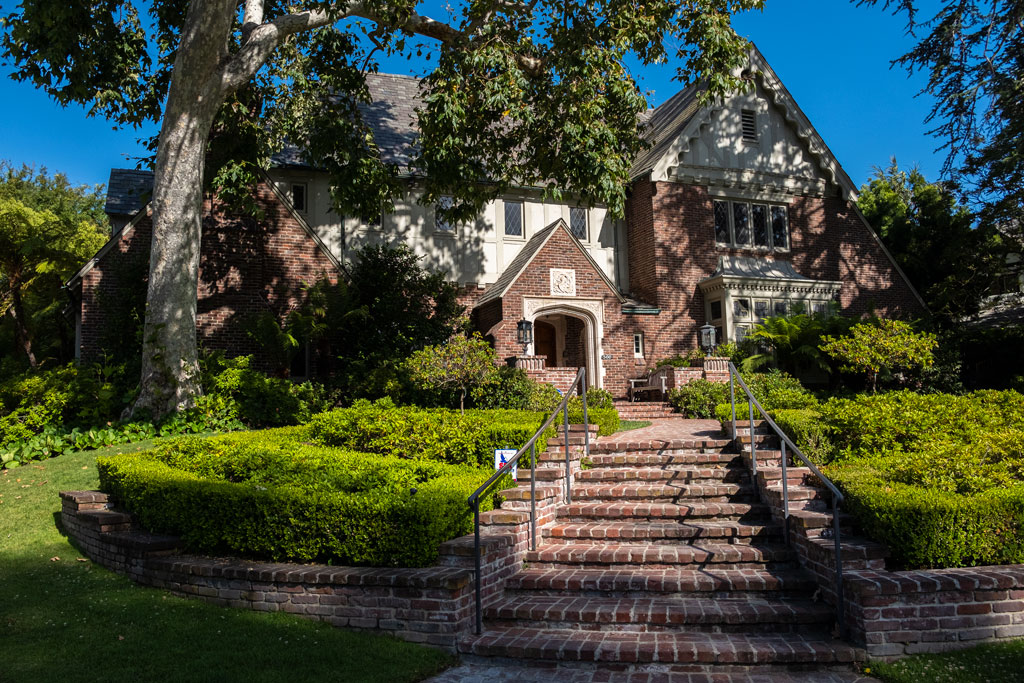 From "The Historical Observer" Fall 1979

Muirfield Road curves westward by the Wilshire Country Club from Rossmore Boulevard above Third Street, then parallels Rossmore to Wilshire Boulevard.  This quiet, tree-lined street was the second street mapped-out in Hancock Park (Rossmore being first) and it was on Muirfield that the first Hancock Park home west of Rossmore was built in 1922 by John William Ruwe.

At 500 So. Muirfield Road sits the charming two-story English Tudor residence of Mr. and Mrs. C. Peter Nigg.  It was built in 1928 for Mr. and Mrs. Leroy H. Stanton and designed by architect Charles Hutchinson.  Mr. Stanton, owner of E.J. Stanton & Sons, a hardwood and lumber company, spent countless hours supervising each stage of construction.  The hand-carved oak paneling in the large reception hall and the library were done by J. Niederer Company and featured in "Architectural Record."

Illustrating Mr. Stanton's love of hardwood and fine craftsmanship is the Rathskeller room with its hidden bar.  The furniture was built for the room, all hand-carved, much in the Swiss style.

The original cost was $85K plus $15K for the lot.  There are 14 rooms and eight baths, a garden house, and a three-car garage with an apartment above.

Mrs. Stanton sold the home in 1942 and the new owner rented it out until 1951 when it was purchased by Mr. and Mrs. Cyril C. Nigg who owned Bell Brand Foods.

Their son, Peter, and his wife Geraldine Gorey Nigg, purchased the home in 1967.  Peter was chairman of the board of Bell Brand Foods until the company was sold.  He is now in private investments.  The Niggs have nine children.

Transcribed and edited by Bret Parsons, February 2022.