624 So. June Street, Hancock Park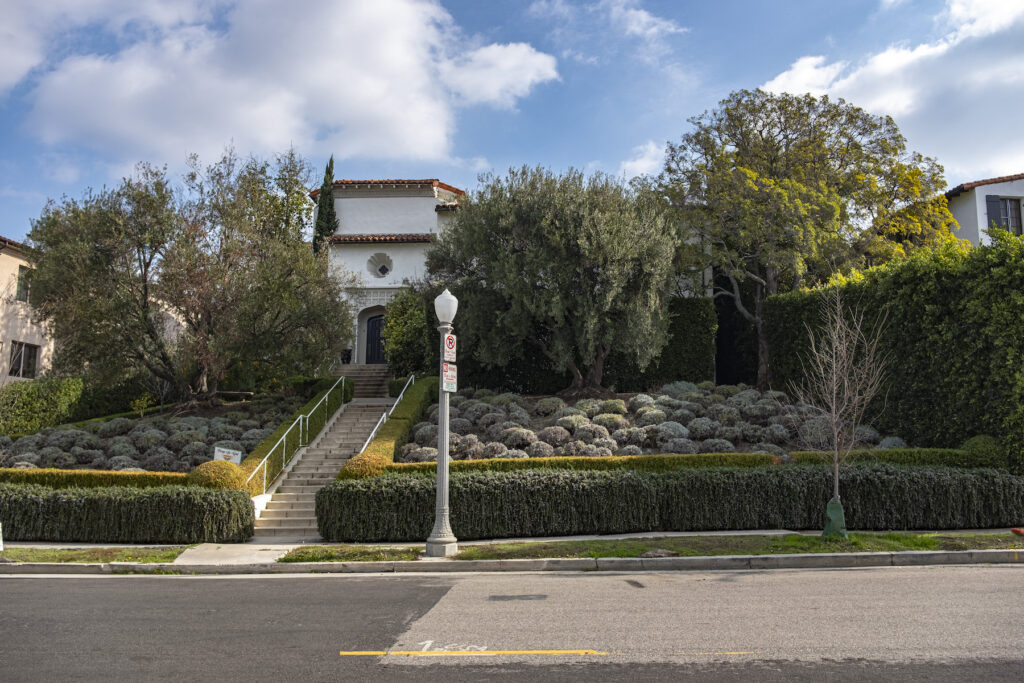 This home is good example of a highly decorative version of Italian Renaissance style. Built in 1928 for Rose and Harry Feigenbaum, it is somewhat eclectic with its Tudor arch door openings and Gothic multi-foil window deeply recessed over the front entrance. More indicative of Italian Revival is the paneled front door faced with wrought iron gates, open eaves with exposed carved beam ends, decorative fascia and corbels, and bands of small paned windows.

This was a popular style throughout America between 1890-1930 and again in recent years.  Prior to World War I, this type of architecture was primarily used for landmarks in major metropolitan areas.

Los Angeles architect Max Maltzman was commissioned to design the house while Mr. Feigenbaum served as contractor.  Although Mr. Maltzman was advertising himself as an architect in 1921, he was not granted a provisional certificate to practice architecture in California until 1930.  He was one of the first Jewish architects to set up his own practice in LA and his first office was located at 169 No. La Brea Avenue.  In the 1940s he was a licensed contractor as well as an architect.  His many projects include the Hebrew Home for the Aged and the Beth Thepelo Synagogue, both in East LA; the Mogen David Synagogue, military housing, and many Spanish style apartments in Miracle Mile.

Cost to build the 15-room residence plus 60×70' multi-car garage in 1928 was $20K, a typical cost for a new home in Hancock Park at that time. Overall construction quality was rated "special" — the highest category available on the assessor's form.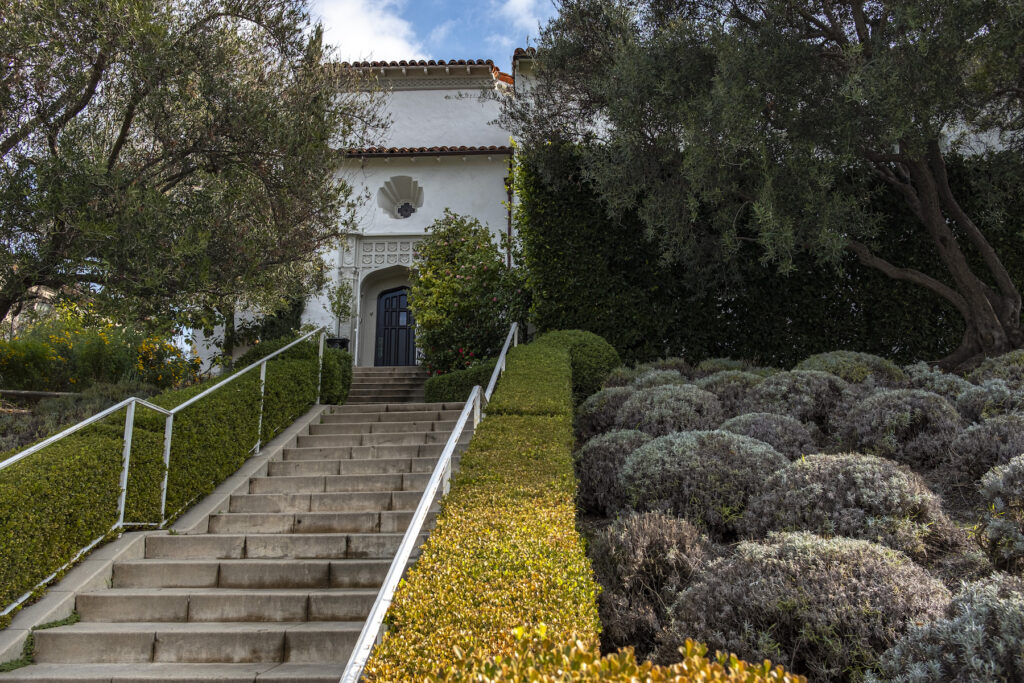 Little is known about the original owners.  We do know they were both born outside of the United States on the same day, January 1, 1879.  Directories of the day listed Mr. Feigenbaum as a carpenter and, it is more likely that he was a contractor.  The August 8, 1930 issue of Southwest Builder and Contractor announced that he would be overseeing construction of the Beth Thepelo Synagogue which was designed by Mr. Maltzman.  The Feigenbaums went though financial difficulties perhaps due to the Great Depression as the property was taken over by the Pacific Mortgage Guaranty Company in 1934.  The Feigenbaums then moved in San Francisco where he died in 1949 and she died in 1951.

In 1938, Beulah and James Stunston purchased the house.  Mr. Stunston made his fortune as a banker and financier in Kentucky prior to coming to LA in 1924.  They lived in the house with their two sons, James Jr. and Louis.

Mrs. Stunston was well remembered as a humanitarian both in Kentucky and LA.  In 1919 she served as state president of the United Daughters of the Confederacy and was director of the Kentucky Public Health Nurses.  In LA she was on the board of Town & Gown at USC which assisted young women on campus in adjusting to college life, and she was also the director of the YWCA at USC.  A painter herself, she was social chairman of the Art Patrons of the Ebell of Los Angeles.  Mr.  Stunston passed away in 1954 and Mrs. Stunston in 1959.
In May of 1961, Beatrice and Charles O'Connor purchased the property.  He was from Illinois and she was from Iowa.  Upon her death in 1974, title to the property passed to Alfred Cassidy.  He sold the home to Victor Nicholas in 1976 and then Dwight and Dona Kendal purchased the property in 1986.

The present owners have lived here since 1991.
Built in 1928
Architect Max Maltzman

Original research by Tim Gregory, The Building Biographer, 2002 Transcribed by Bret Parsons, January 2022