419 So. Lorraine Avenue, Windsor Square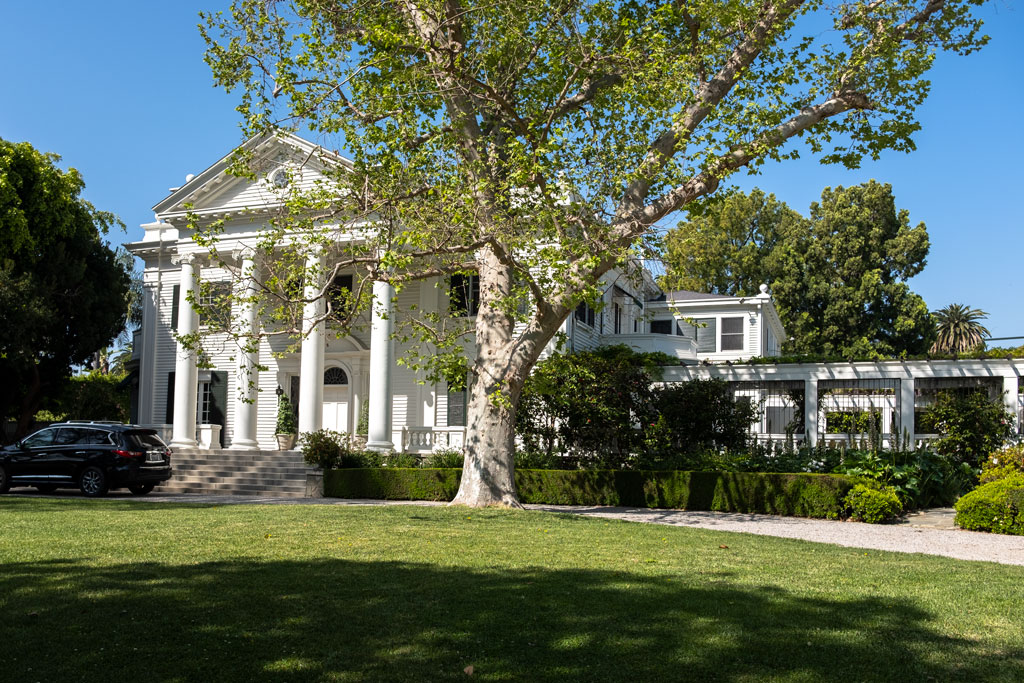 From "The Historical Observer" Fall 1988

"Sunshine Hill" is the name given to the Greek Revival estate originally designed for Mrs. Jeanette Donovan by architect Theodore Eisen in 1913.

Built of sold California redwood, the house is a rare example in this area of the Classical Revival style so widely imitated on the west coast at the turn of the century.

The exterior is dominated by four Ionic columns.  The interior continues the classical revival detailing in paneling and cornices.  Two of the home's fireplaces are said to have come from the home of Civil War General J.E.B. Stuart's mother in Virginia.

Architect Theodore Eisen came to Los Angeles from San Francisco in 1885 to aid in the design of the Los Angeles County Courthouse.  He also designed Casa de Adobe in 1917 which is at the Southwest Museum.

In 1918 the mansion was purchased by the Harwood Huntington family who added the tennis court, two-story guest house, servants' quarters, gardeners' sheds, and four-car garage.

For more than 40 years the Hugh Evans family lived in the house.  A banker, Evans originally moved to Los Angeles from New York to become manager of several Security Bank branches.  Later he opened one of the first Federally-chartered savings and loan associations and was president of Western Federal Savings & Loan Association for many years.

Upon the death of Hugh Evans Senior, the house was sold to Danny Villanueva and his wife Myrna.  The home has been extensively restored and remodeled under direction of interior designer Chuck Watkins.

Transcribed and edited by Bret Parsons, February 2022