605 So. Plymouth Boulevard, Windsor Square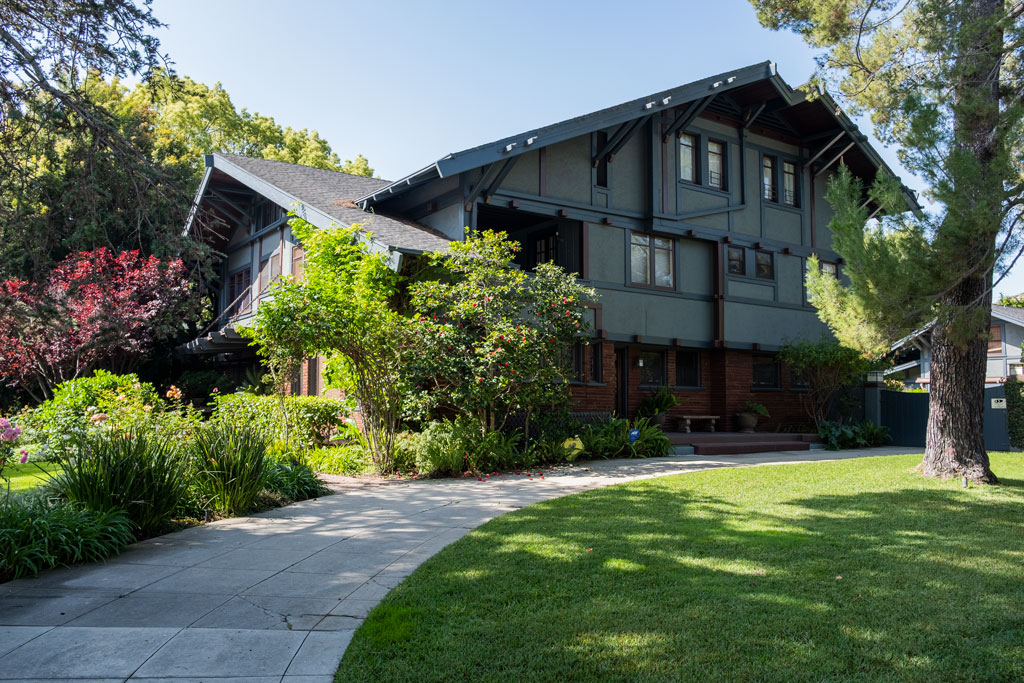 From "The Historical Observer" Fall 1988

Built in 1906 by architect Arthur Heineman, the three-story home at 605 So. Plymouth Boulevard is an excellent example of the California Craftsman style.

The home, originally in downtown Los Angeles, was moved in the 1920s by John Bullock to property he owned between Sixth Street and Wilshire Boulevard on Plymouth.  Bullock, founder of the department stores bearing his name, had the house moved as a surprise for his wife.  It had been her girlhood home.
The 6,800 square foot home has four bedrooms on the second floor and a full third floor which contains a living room, kitchen, bedroom and bath.  There is also a coachhouse over the three-car garage, and a swimming pool.  Th entry hall is highlighted by a high ceiling, fireplace, cross and support beams, and leads to the curved stairway.

The living room has built-in benches, beam ceilings, and window panels.  The dining room features the original stained glass panels, built-in cabinets for display and storage.  There is a also a full basement with wine cellar and vault.  Heated by seven furnaces, the house has a third fireplace in the master bedroom.
Owners are Gene Sinser and his wife Patty DeDominic Sinser.

Transcribed and edited by Bret Parsons, March 2022.